Displaying items by tag: Team Member
Thursday, 17 May 2018 11:12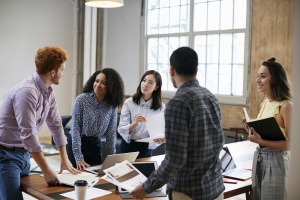 Great teams are born from great team members. This two-day programme contains all of the elements to ensure your team members are operating as effectively and efficiently as possible - an excellent grounding for all employees in good working practices that will instil the importance of personal development. Delegates will learn and understand their responsibilities to their organisation, their managers and to their fellow team members.
As this course is for organisational teams, it is only run in-house on request. Minimum 12 delegates.
Get in touch to find out more.
Day 1
Team Working
Understanding how individual roles fit with the company vision and one team ethos. Appreciating the skills and abilities of other team members to increase trust and respect within the  team. Undertake a team SWOT on the company/team performance against the vision, and celebrate what's going well in the organisation and agree an action plan for areas for development, and any opportunities to become more digital in the future.
Communication
Understanding and demonstrating how to communicate effectively within the team and with external individuals, including difficult conversations. Review how the team communicates, and how digitalisation can improve communication within the workplace.
Conflict within a Team
Understanding how to deal with potential conflict in a team, and how team members can reduce conflict in the workplace.
Policies and Resources
The employee's responsibilities with health and safety, and taking ownership of the task and outcomes to ensure the customer experience meets their expectations and organisations vision.

Day 2
Time Management and Organisational Objectives
Understanding how team members can manage their time in line with their team/organisational objectives. Agree an action plan for the areas for development or focus to help achieve their objectives.
Dignity at Work
The employee's responsibilities with dignity at work, and what they can do to contribute to a positive working environment within a diverse team.
Solving Problems and Managing Stress
A team building exercise to practice problem solving and decision making, and agree suitable solutions to implement. Understand likely causes of stress to team members and its likely impact on the team, and identify sources of support available to help deal with stress.

This training is available through Skills Support for the Workforce (SSW), a programme developed to upskill employees within small and medium-sized enterprises (SMEs) in the West of England (Bristol, North Somerset, & South Gloucestershire), Swindon & Wiltshire, & Worcestershire. SSW is cofinanced by the Education and Skills Funding Agency and the European Social Fund. HR Champions Ltd is part of Serco's network of training providers chosen to deliver the training in your area.