Thursday, 03 May 2018 10:56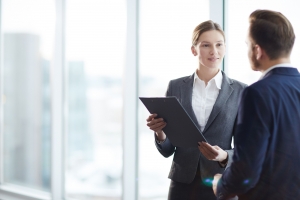 At Level 4 we enter the strategic tier of Leadership and Management. Managers who are established in post and who have a firm grasp of operational people management will find these Level 4 modules to be the natural next step in their personal development. Delegates can elect to cherry-pick specific elements they recognise as being areas for improvement, or study all modules to acquire the skills that will be required as they progress into a senior management role. All modules are accredited by the Institute of Leadership & Management.
Day 1
Understanding the Management Role in Performance Management: Organisations, stakeholders and their objectives. Hierarchical and matrix structures; levels of management and associated roles and responsibilities within an organisation. The management task; including planning, organising, motivating and controlling. Range of management styles. Range of human behaviours, including cultural and individual differences, verbal and non-verbal communication. Interact to affect understanding, and their effect on communication in the workplace. Balance between trust and control.

Day 2
Motivating People: Theories of motivation, including 'content' and 'process' theories, and their application to teams and individuals. Factors affecting performance and motivation. Assumptions about human behaviour and the limitations of traditional theories of motivation. Individual motivation vs team motivation and potential conflicts. Incentive systems. Theories of motivation and their application to teams and individuals. Measures for evaluating performance.

Day 3
Individual Mental Toughness: The importance and implications of mental toughness. Where mental toughness makes a difference – performance, wellbeing, positive behaviours and aspiration. The benefits; working to demanding goals and targets, handle several things at once, respond to sudden change and demand. The consequences; under-performance, stress related problems. Developing positive thinking and visualisation. Effective goals setting. Developing an action plan.

Day 4
Developing People in the Workplace: Examining the expectations and requirements of people. Diversity in the workplace and understanding the causes of conflict. Promotion of work/life balance. Administering people in accordance with guidelines and career pathways. Managing career development. Techniques for managing interpersonal conflict. Methods of ensuring fair and objective assessment/appraisal. Mechanisms to provide appropriate feedback to individuals.

Delegates are required to submit four written assignments of approximately 1200 - 1500 words demonstrating their understanding and application of the course subject matter, within four weeks of the final day of tutoring.